The seventh biennial conference on electronic lexicography, eLex 2021, was held online, 5–7 July 2021.
Language of the conference: English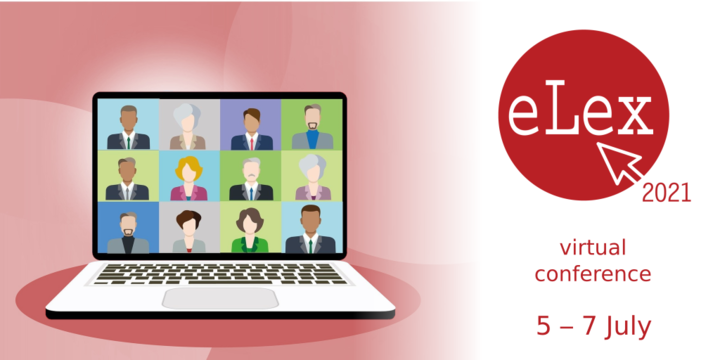 eLex 2021: Post-editing Lexicography
The topic of eLex 2021 is going to be "post-editing lexicography". Digital lexicography has progressed over the past 30 years up to the point where large parts of entries in a new dictionary (such as headword lists, inflections, translations, or example sentences) may be drafted automatically from a sufficiently large and sufficiently annotated text corpus. This technological progress leads to new methodological approaches where most editorial work consists of post-editing of automatically created content – similarly to post-editing of machine-translated texts. On the one hand, these changes promise speeding up the editorial work (as less work needs to be carried out in total). and allow the editors to focus on the lexicographically most challenging issues (as the easy bits are likely to be drafted correctly). On the other hand, the changes to the overall editorial workflow and dominant lexicographic paradigms are substantial and not straightforward to implement.
Therefore at eLex 2021, we would especially welcome contributions that focus on:
theoretical as well as practical challenges of the post-editing workflow
recommendations, best practices, and use cases of post-editing lexicography
impact of the post-editing workflow to the editor's skillset and education
tools and technologies for post-editing lexicography, their evaluation as well as discussion of their current limits
Notwithstanding these highlighted topics, the forthcoming eLex conference is the right place to present any ongoing work in digital lexicography.